Peter now works for Health & Hope Myanmar (HHM), having graduated from University last year, and is leading the new Education for All project. He had big dreams as a child and has worked hard to achieve his goal.
This is his story...
My name is Peter. I have one younger brother and one older sister. Unlike my peers, I was fortunate to be able to take my primary and middle education in my home town, as my father had a job as a teacher working in a high school in Matupi.
I was in a privileged position and able to attend high school in Kyauktu where I passed my matriculation examination with distinction in all four subjects: Biology, Chemistry, Physics and English. My dream was to continue to study, but my parents were unable to support further education as we did not have enough money.
I was desperate to study, so desperate to study, and God answered the prayers of my family through the Freedom to Education Programme (FEP) of Health & Hope.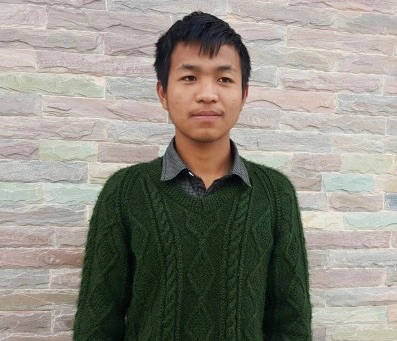 I spent four months in Lailenpi where Dr Sasa was training Community Health Workers. These young and determined students represented their villages, wanting to see the health condition of their communities across Chin State improved. This was a very inspiring time for me. I learnt many basic life skills and through this time, my confidence and personality grew stronger. The greatest thing I learnt were values of how to love my people and serve my community, which I will keep with me for the whole of my life.
In Chin State there are many children, including many of my friends, who have big dreams and a vision to achieve many things, but who don't have the privilege to study due to poverty and the lack of schools and opportunities. I share their pain and frustration.
If it were not for the Freedom to Education Programme, I would have been in the same situation. It is my ambition to bring equality to Burma and to be the voice for the voiceless so that everyone, whether rich or poor and regardless of tribe, geographical area and religion can enjoy the same rights and privileges, particularly in education.
In 2013, I came to India and studied in classes 11 and 12 at Sankerdev College. I passed my class 12 examinations in first division with a Distinction in Psychology. I went on to study Social Work at Martin Luther Christian University, and have now returned to Chin State to work with HHM to lead the Education for All project.
I believe that through this work I will be able to help the people of Chin State, and the least fortunate people of Burma, come out of the situation in which injustice, inequality, violations of human rights and exploitation of the poor are taking place.
I give thanks for the chance to be able to study, and I deeply desire to help others have the same opportunity as I have had. I know that today is the right time to make an effort for my people. Now I am working hard and will give my best to comfort the pain and the sorrows of my people.
Click here to find out more about our Education work.