My trip to Lailenpi, by Dr Emma Peddlar (volunteer doctor)
Posted on 28th March 2019 by Philippa Wilford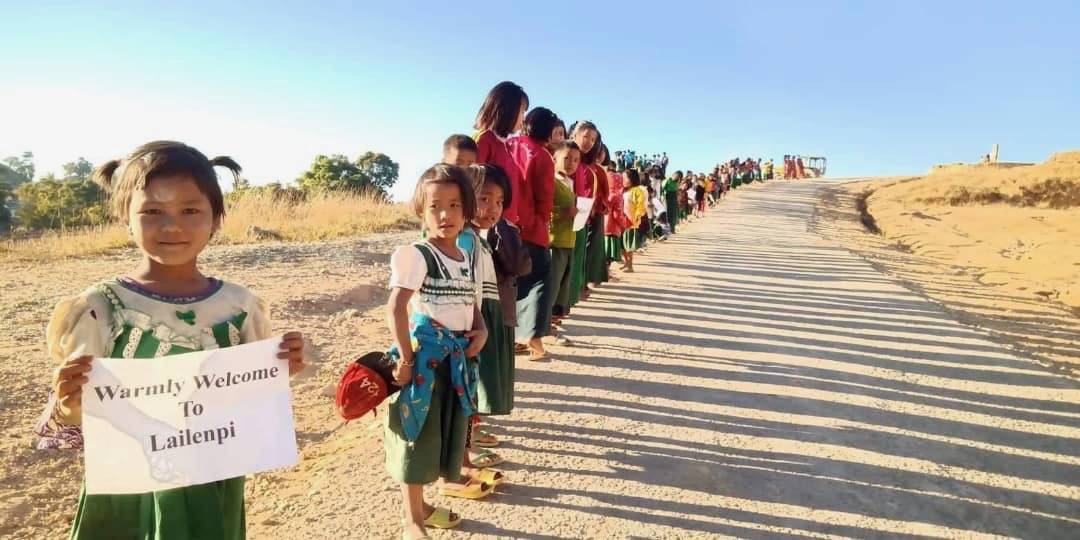 The trip to Lailenpi, Myanmar was an adventure from start to finish. I had first heard about Health and Hope through a friend from medical school who was going to be leading a trip to run a week-long training workshop as part of Health and Hope's health care programme.
I was given an opportunity to be part of this trip, along with two other volunteer doctors. My role was to lead several teaching sessions on subjects including gastric issues, injuries and burns, and non-technical skills. Other sessions in the workshop would include respiratory issues, malnutrition, palliative care and communication skills.
We landed in Yangon in the late afternoon to beautifully warm weather and a crowd of people waiting for us! We were quickly surrounded and after shaking everyone's hands, were presented with colourful longyis (skirts), bags and a bouquet of flowers. I felt rather overwhelmed!
The following morning, we were up by 5 am, heading back to the airport to get a flight to Bagan and then set off on a 4x4 adventure; suitcases strapped to the roof and six of us strapped in the back. It took seven hours to drive to Gangaw passing through countryside that was mainly flat and rural, with small villages, rice paddies and bamboo huts.
The next day saw the terrain change quickly as we began to climb the seemingly never-ending road up through the Chin hills. The journey took around 13 hours, along twisty roads and up steep inclines with sheer drops to the side. The road was extremely bumpy and in the mid-day sun, very hot. We stopped several times to splash cold water on the wheels which immediately turned to steam and it was evening when we reached Lailenpi, just before sunset.
We were greeted at the outskirts of the town by a delegation who presented us with more longyis, scarves and floral garlands. After much handshaking, photos and a prayer, we reached the top of the hill to see the entire population of Lailenpi lined up awaiting our arrival! As we were processed down the slope towards the football pitch a man with a loud hailer called "Dr Grace, Dr Emma, Dr Kerry, Dr Nick" to which the children would cry "God bless you! God bless you!". It was utterly overwhelming and I hoped I would be useful to them on the trip!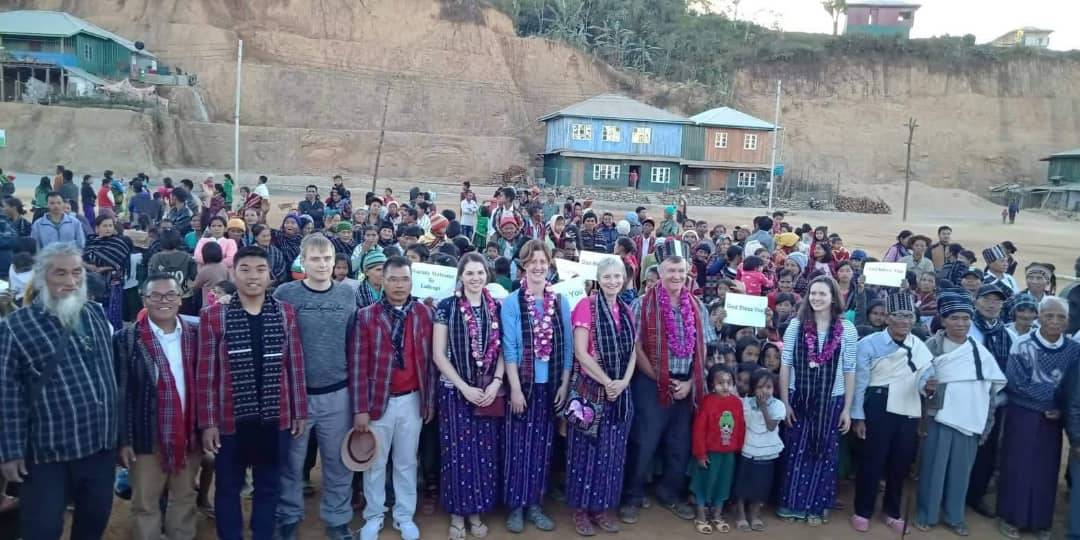 ​The first day in the town we met with the Area Coordinators (ACs) who we would be training during the week. We were using the first floor of the new training centre for the workshop, and started off the day with introductions, a quiz and an icebreaking game. Twenty-five ACs had made it to the workshop, some having travelled up to eight days to reach Lailenpi. We received feedback of how they thought the project was running so far, what needs they had and how these could be addressed as well as a discussion about the development of medical guidelines.
In the evening we were joined by two army doctors who were stationed at the small government hospital in the town centre. When they found out about my surgical background the doctors told me about their current inpatients, one with a large wound over his achilles tendon, the other a 2-year-old child with a scald. I arranged to see the patients in the hospital the following afternoon.
The next morning Kerry led a session on hypertension and the HHM doctors taught on recognising danger signs and emergencies. I taught the ACs basic life support including CPR and ABCDE assessment. In the afternoon I visited the government clinic to see the two burns and plastics patients. I reviewed the achilles tendon injury, which was quite significant , and after debriding the wound under local anaesthetic, dressed it and recommended that he be referred to a larger centre where he could undergo surgery. ​
Thursday was my first proper teaching session and I taught the ACs about gastric issues, predominantly management of vomiting, diarrhoea and dehydration. They shared stories of people in their villages who had died from diarrhoea, so I taught them to recognise the danger signs when someone really ought to go to hospital. I taught them how to take a history and examine a patient and they were able to practice a simulated consultation. I was impressed by how keen the ACs were to learn and the intelligent questions they asked.
In the afternoon I joined the Hope clinic and saw around 15 patients. Many complained of joint pain, cold intolerance and stomach pains. I worked with Dr Shwehulian and learnt from him what treatments were available in the clinic. There were no laboratory tests or other investigations available so we had to rely on clinical judgement alone. Frustratingly even if a condition was suspected, there was not always means of testing for or treating the disease. The two doctors clearly love medicine and wanted to develop their skills but are struggling with the limited resources.
I was struck by how grateful all the patients were, despite me seemingly doing very little. One elderly lady shook my hand so hard I thought it would fall off, and said she would remember my visit all her life. All I had done was look in her ears!
I found it difficult to understand the depth of gratitude that the people of Lailenpi showed, until someone explained that it was our presence that gave them hope, hope that their little town was not forgotten by the rest of the world and that we cared enough to come all the way from the UK to see them, besides any medical skills we could offer. The people were so generous in their appreciation, and we left the clinic with vegetables, pineapples, bananas and a multitude of eggs! Dr Nick managed to see about 200 patients over the week in the clinic, which is about 10% of the population of the town!
I found some of the teaching really challenging, as in a resource poor setting, much of what I wanted to teach wasn't possible if they didn't have clean bandages, dressings or equipment. I taught the ACs to suture using the instruments I had brought and a lot of bananas! I was so impressed at their skills, and despite the language barrier they picked it up really quickly. I had also undertaken research into burns dressings that can be used when there is no access to specialised dressings and found that a paste made from papaya is effective, as well as banana leaves and honey. All of these things are available locally and may well be better than trying to travel several days to reach a bigger clinic.
Sunday was our day off at church, where we were treated to a song by the ACs and each of us gave a speech to the congregation. I felt so blessed by coming to Lailenpi, and that I would leave richer for my visit. I thanked them for their generosity, kindness, wonderfully overwhelming welcome and all of their prayers.
Reflecting back on my trip, I have been very challenged by the prayerfulness of the community and was humbled to hear how long they had been praying for us to come. I was very moved by their faith, and their witness to how much God is doing.
I have learnt so much about faithfulness, being open to being used by God and gratitude, I had much to ponder on the journey home. I pray that I may be able to return, I am not sure in what capacity, but would love to visit Lailenpi again. I am grateful for Health and Hope for inviting me to join this trip and I am excited to see how God continues to work in Myanmar.