Health
OUR GOAL is to improve access to public health and primary medical care in Chin state.
Health indicators in Chin State continue to be among the worst in Myanmar. The primary cause of death is from infectious diseases including pneumonia, diarrhoea and malaria – most of which are preventable and treatable. Medicines are scarce and expensive and despite there being numerous health facilities, many are empty and all are understaffed. Due to the distance between villages and towns, patients only travel to a hospital when their deteriorating health conditions are at their worst, with some arriving too late.
Since 2008, Health & Hope have trained 791 Community Health Workers (CHWs), 32 Area Coordinators (ACs) and 126 Traditional Birth Attendants (TBAs). In addition, 14 local Trainer of Trainers have been trained who have in turn delivered Maternal & Neonatal health training to 101 TBAs in remote villages. This network of locally trained health workers forms part of the community-led response to health challenges across the region, providing support to a population of 150,000 people across 445 partner villages.
Click the tabs below to find out more about our current projects.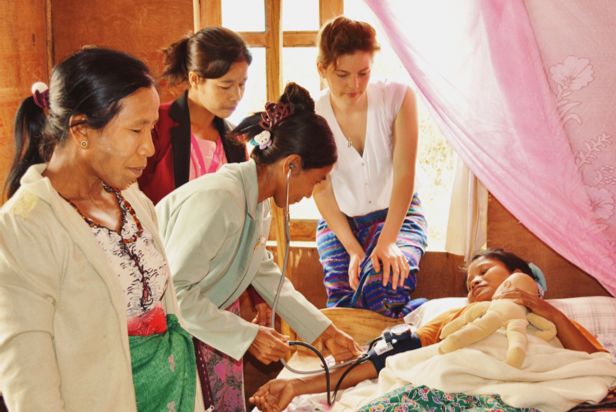 Summary
This year, the project will provide training in life-saving midwifery skills to Traditional Birth Attendants (TBAs) in 24 remote villages in western Myanmar through a team of local trainers which has been developed over the last 2 years of the project. This will provide support to a further 180 women each year in pregnancy and childbirth and will facilitate a sustainable change in knowledge, attitude and practice surrounding maternal and neonatal care in rural Chin State.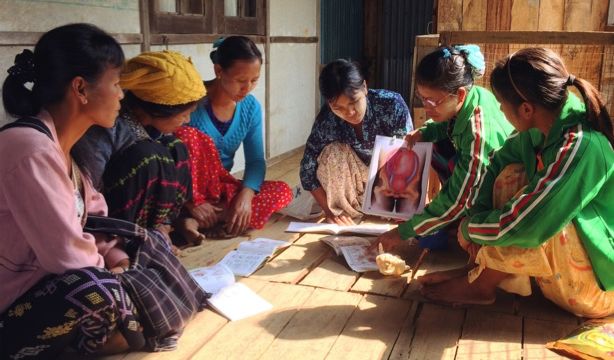 Challenge
Most villagers in rural Myanmar live a three-four days' walk from a health facility, making pregnancy and childbirth dangerous. In Western Myanmar, only one in two pregnant women will be seen by a trained healthcare working and only 6% of babies are born in a health facility.
Superstitions surrounding childbirth, combined with poor practices and lack of education, have resulted in an under-5 mortality rate which is double that of the rest of the country.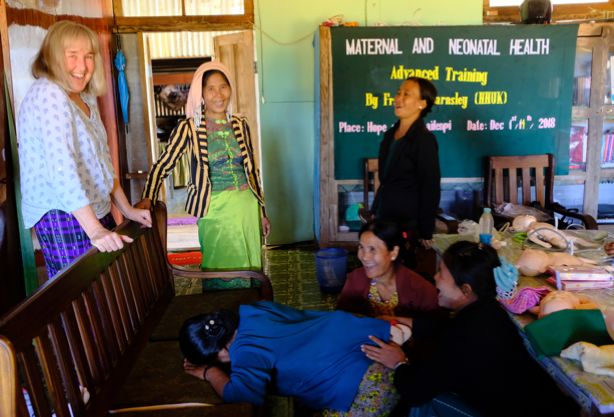 Solution
We provide training to:
Traditional Birth Attendants (TBAs)
Older women who hold status within their communities
Community Health Workers (CHWs), who have been selected by village leaders and have previously attended our 6-month training programme
TBAs and CHWs are available 24/7 in each village. Working hand in hand, they are able to address the vast majority of health needs through education and implementing preventative practices. TBAs also provide care for women throughout pregnancy and labour.
The project started in 2013 and has, to date, given 126 women from 58 villages the opportunity to attend a bespoke, evidence-based training course, enabling them to support mothers and babies throughout pregnancy, birth and early infancy. To ensure the expansion and sustainability of this project, a 'Train the Trainer' initiative was piloted in 2018, assisted by a wonderful team of UK-based midwives.
Over the last two years, 15 local Trainer of Trainers (ToTs) have led their own community-based workshops in remote rural villages. As a result, a further 101 TBA's and 123 women have accessed the training programme. The ToTs are well respected in the villages that they serve and also act as a network for the distribution of Clean Delivery Kits (CDKs) and key medicines, such as pregnancy vitamins, iron tablets and paracetamol, to TBAs.
Firstly I want to say I am very grateful for the help of Health and Hope. Without them and this opportunity my village and others close by would have no access to health care. One situation that stands out for me was whilst walking in the forest looking for elephant yam. I heard a lot of crying in a nearby village. I went to see what was happening. As I arrived I found a mother delivering her baby. There had been a lot of blood loss and the mother was very sick. The father, children and the villagers were all crying. They were just waiting for the mother and child to die as they couldn't do anything to help. I quickly assessed the situation and was able to help assist and safely deliver the baby and save the mother even though I had no equipment.


Latest Update
In November 2019, two volunter midwives travelled to Lailenpi from the UK to run training workships with local trainers (ToTs) and additional TBA training. The midwives returned in February 2020 to run mother and baby clinics in Lailenpi, teach Area Coordinators invaluable midwifery skills, and undertake monitoring visits to TBAs in remote villages. You can read an blog from their November visit here.
This year, the project aims to:
Support the training of TBAs through the local ToT's to 24 villages in rural Chin State. This will provide support to a further 180 women each year in pregnancy and childbirth.
Review the quality of the local trainer's work through six monitoring village field visits.
Deliver an advanced training course and review of skills workshop for the ToTs. This will also expand the total number of ToT's to 18.
Provide a two day bespoke training workshop in advanced midwifery to government trained midwives.
Equip and resource the local medical team, senior ToTs and government midwives to take over the delivery of TBA training from the expat midwives.